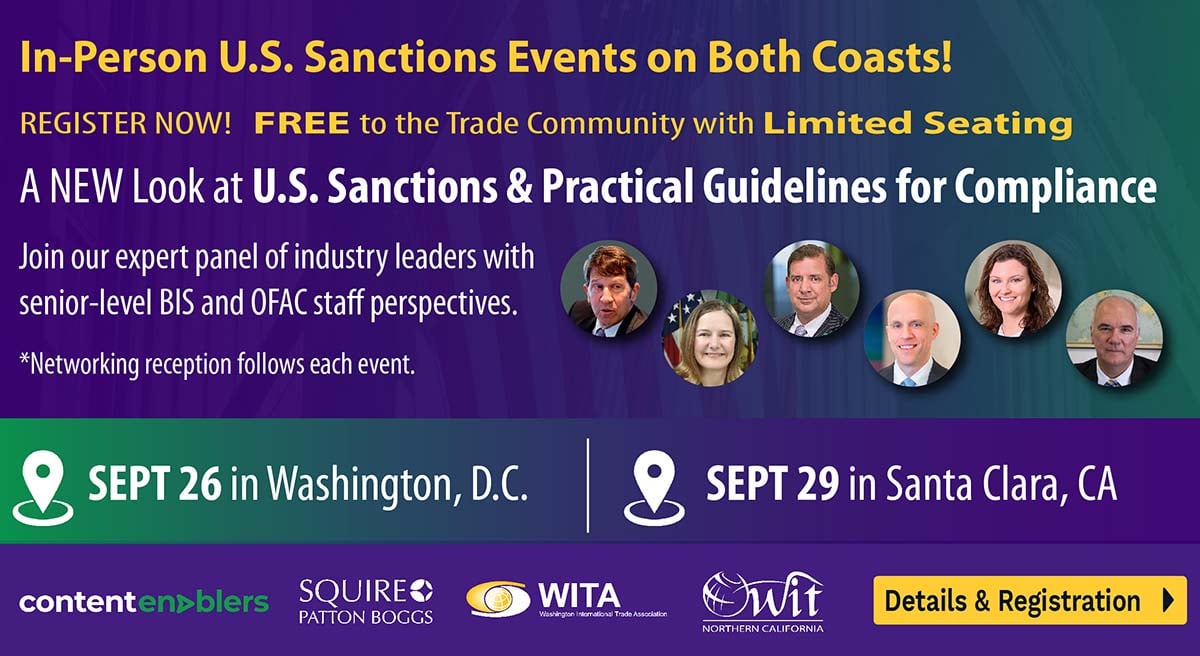 Join us in Washington, DC (Sept. 26) or Santa Clara, California (Sept. 29) to hear from this select panel of high-level government and industry policy leaders who will explore emerging sanctions and embargoes compliance trends in 2022 and beyond to include: 
BIS/OFAC Panel on Advancing U.S. Foreign Policy and National Security Through Economic Sanctions and Export Controls. BIS and OFAC have each played key roles implementing U.S. policy on China and Russia. This panel discussion will explore how each agency has employed its authority, lessons learned, and the challenges ahead.
Trade Compliance and Sanctions Training in Rapidly Changing Environments
Update on Russian Program – Export Controls and Sanctions

 
FEATURED SPEAKERS
Matt Borman | Deputy Assistant Secretary for Export Enforcement
U.S. Department of Commerce – Bureau of Industry & Security 
Lisa Palluconi | Associate Director, Sanctions Policy & Implementation
Office of Foreign Assets Control 
EVENT PANELISTS
East Coast
Monday, September 26, 2022
2:30 – 5 p.m.
In Person
Schar School of Policy and Government, George Mason University Arlington Campus
Van Metre Hall, 5th Floor, 3351 Fairfax Drive, Arlington, Virginia 22201
 Register for Sept. 26 Presentation in Arlington, Virginia
West Coast*
*Encore presentation of recorded remarks from Matt Borman (BIS) and Lisa Palluconi (OFAC) from the Sept. 26 program
Thursday, September 29, 2022
2:30 – 5 p.m.
In Person
Embassy Suites, Santa Clara – Silicon Valley
2885 Lakeside Drive, Santa Clara, CA 95054
 Register for Sept. 29 Presentation in Santa Clara, California
POST-EVENT NETWORKING RECEPTION
A networking reception with cocktails and hors d'oeuvres will be held following both events. 
These are in-person events. Space is limited, so register soon to save your seat!